The Magic of Making of Harry Potter – Warner Bros. Studio Tour
Back in July during the London 2012 Olympic Games, ReSource was thrilled to be invited to 'The Making of Harry Potter' Studio Tour at Warner Bros. Leavesden Studios in Hertfordshire, UK.  This was part of the publicity initiative for the UK government's 'Great British Business' project, which saw summit conferences, outings and special events to showcase the benefits of doing business in the UK.
The tour promises to show the inner workings of the film-making process, and to reveal secrets of how various effects were achieved. If you're missing the release of new books and films, it's a great way to get back into the Harry Potter world. With half term approaching, it would make a great family day out as it's not weather dependent, and has all the facilities and entertainment you need for a variety of ages from young to old!
We've been avid readers of the Harry Potter books since the publication of the first edition,
'Harry Potter and the Philosopher's Stone'
, in 1997, ordering each subsequent volume in advance, and we have seen all the films in the cinema.
The worldwide phenomenon of J.K. Rowling's books, films and merchandise is a superb showcase for British imagination, creativity, technical expertise and enterprise, and this 'behind the scenes' Harry Potter tour, which opened earlier in 2012, offers rich insight into the astonishing scope of the project.
Successfully translating beloved characters from page to screen is always a delicate task, creating settings which reflect the diversity of locations is equally challenging, and so the opportunity to see how this was accomplished over the eight years during which the films were made is an enticing prospect, and it has been very well conceived.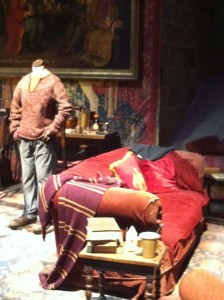 We visited during school holidays, and the site was very busy; however, the experience flowed well, the
organisation
was good and there was plenty of car parking – even the
café
coped with the numbers!
The tour itself is phased to offer a short introductory film and talk, followed by entrance into the Great Hall, and from there through various sets, complete with magical displays of things such as Molly Weasley's self-washing frying pan, the self-knitting scarf, the Potions classroom, Dumbledore's office and Gryffindor Common Room.
The
Backlot
shows some of the key places and features of the films –  the house at 4 Privet Drive,
Diagon
Alley, the Knight Bus, the Chess pieces  – and the Creature Shops are superb.
The Model Room has an enchanting model of Hogwarts Castle, and throughout there are displays of real costumes, models, accessories and figures which give a taste of the massive amount of work which went into the creation of the eight films and their special effects.
All Text & Gallery Images Copyright Porto Publishing & Christine Miller